Decades of innovations.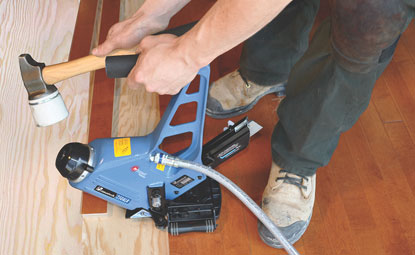 PRIMATECH designs and manufactures high performance wood flooring tools with a variety of enhancement accessories for all types of contracting jobs. The company puts a heavy emphasis on R&D and field testing so as to offer superior value for an optimal cost of ownership.
With a vision to support the advancement of the flooring trade's best practices, Primatech also contributes to a number of professional organisations. For the past three decades, Primatech has lead the parade with innovations in both manual and pneumatic fastening tools such as the jam-free multi-strike mechanism, the auto-regulating Primpact striking module, the high capacity LoadXtend magazines, the PrimSurfer roller base and the advanced design NG nail.
In a context of sustainable development and the constant introduction of new flooring products, Primatech is positioned as a valued partner for the manufacturers as well as the wood flooring contractors.
Customer Testimonials
Primatech has revolutionized my trade.
– Adam Valentate, Tate Flooring
The speed at which I can install [gym] floors has at least doubled and the learning curve for new employees is half of the time.
– Jon Simons, Titan Hardwood Inc.
I find that I can install 15-20% faster than I could with my old Nailer.
– Forrest Jolliffe, FHT Contracting Ltd
Very little maintenance and the ability to nail closer to the walls than the competition is a huge benefit.
– Tyler Giesbrecht, Hardwood Perfection
The ease of use is amazing compared to the other guns. Which means I can get more done without being as tired at the end of the day.
– Jake Turner, Sirius Hardwood Flooring
Can rack about one inch from nailed in rows. Consequently, we can rack more rows and do them more accurately.
– Harold Jolliffe, Wolf Tree Enterprises
What is Primpact?
THE PRIMPACT ENGINE: THE HEART OF THE 250 / 550
Offers reliability, extended performance and an unequaled smoothness of operation.
Reduced wear effect and quick interchangeability of PRIMPACT engines between same generation units.
High-speed action and few moving parts, for a powerful yet soft stroke, a shorter air-saving cycle and increased precision.
Short nose and compact valve design provide an all-around striking surface and enable the nailing of more boards (4 1/2" closer) to the end walls.
Finely threaded screw-in cartridge assembly for precision, easy on-site dismantling and durability.