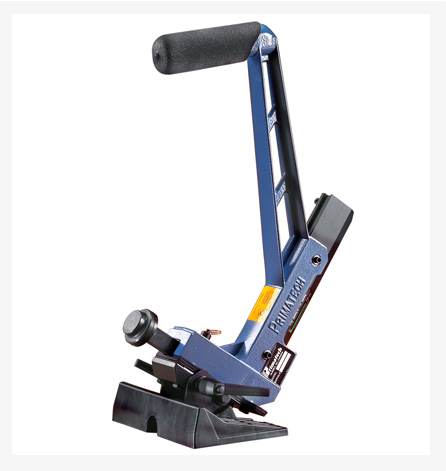 Primatech 510AL Manual

---
3/8'' to 5/8'' (10 to 16mm)
Primatech 510 single-strike manual nailer with a varied base plate configuration and a built-in tapping block installs 3/8'' to 5/8'' (10 to 16mm) solid and engineered hardwood flooring.
The 510 base plate can be adjusted for different flooring profiles.
Its flexibility and light weight make this tool the all-purpose basic tools for average size installations.
Configurable to accept 18ga L nails 1 ¼'' – 1 ½'' (32 – 38mm).
Main features of the 510A Version
For solid hardwood and engineered flooring
Manual nailer, single strike
Fixed base
Adapter plates and fine-tuning shims
L 18ga nails 1¼'' – 1½''
Low maintenance
Supplied with 2.5 lbs mallet