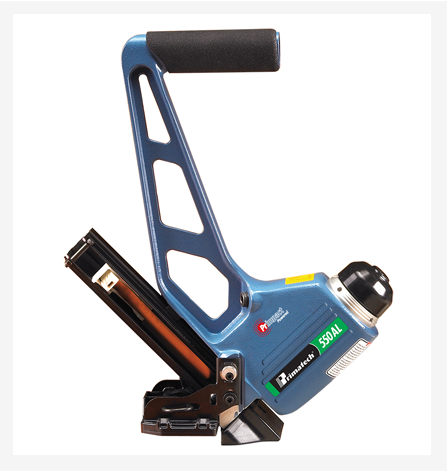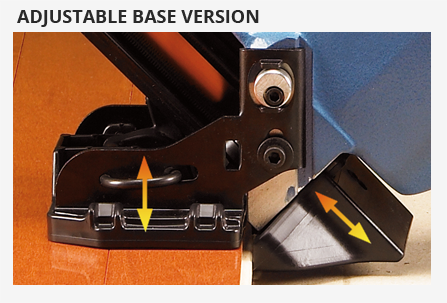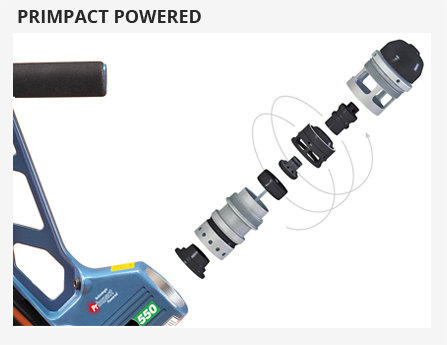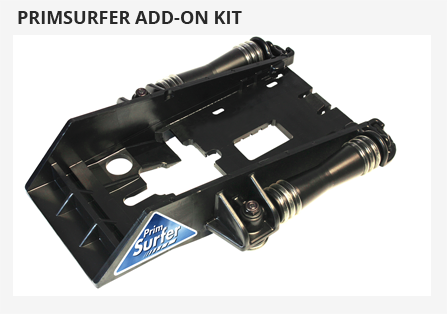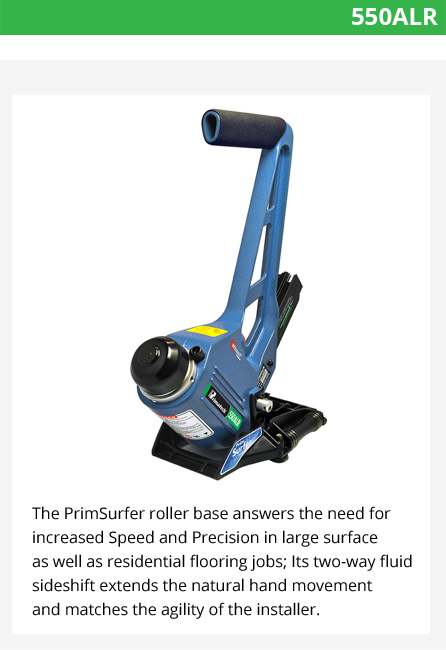 Primatech 550AL Pneumatic

---
3/4'' (19mm) factory adjusted
3/8'' to 3/4'' (10 to 19mm)
---

What is Primpact?
---
The Primatech 550A's pneumatic fastening tools embody the most advanced technical developments in flooring installation. The 550 features the PRIMPACT module, a breakthrough for the industry.
Packed full of innovative features, the reinforced high-strength aluminum head casing offers reliability, extended performance and unequalled smoothness of operation. Close-tolerance parts assembly and a new cylinder design (for reduced wear and quick interchangeability between same generation units) are indeed a great added value for the discriminating user.
TOTAL PRECISION – SIMPLE OPERATION
Another exclusive feature is the 550A's articulated, dual action and fully adjustable base which enables it to deal with an infinite variety of solid / engineered flooring from 3/8″ to 3/4″ (10 to 19mm).
Once set on the board, the foot of the tool rests firmly against the tip of the tongue to keep the tool in position and prevent damaging the top finish.
The cam operated base plate adjuster maintains a consistent angle of penetration to deliver the fastener snugly into the nail pocket of the board with controlled penetration and perfect accuracy.
The compact base makes for a narrower racking gap and contributes stability.
Main features of the 550AL Version
The 550AL version features a fully adjustable baseplate providing 3 distinctive advantages:
Short nose and compact valve design provide an all around striking surface, enabling the nailing of more boards closer to the end walls.
No shims required. The built-in adjuster eliminates the use of shims to match the board thickness.
Telegraphy (Dimple Effect) control. The adjustable front block allows for ultrafine positioning, as it corrects the nail penetration to minimize or eliminate surface deformation.
Unrivaled characteristics
Can be actuated from any angle
Light mallet impact will set nail perfectly
No recoil
Simplified maintenance
3/8'' to 3/4" (10 to 19mm) flooring
Dual action and total precision adjustable baseplate
Common features to all versions of the 550
High speed action and minimal moving parts result in a powerful yet soft stroke, a shorter air-saving cycle and increased precision.
Striking system that regulates the depth of penetration independently from the mallet impact.
Finely threaded screw-in cartridge assembly for precision, easy dismantling and durability.
Primpact striking module.
Ergonomically designed for efficient handling.
Heavy duty cast aluminum body.
Safety mechanism embedded in baseplate.
Highest grade steel piston and driving blade will last longer under repeated impacts.
Low center of gravity and perfect balance provide stability.
On-site maintenance. An allen wrench is supplied for essential adjustments.
Comfort grip.
Wood friendly composite shoe.
Extruded aluminum nail channel.
Specifications
Weight

: 8.75 lbs (4.0kg)

Height

: 17 ¾" (451mm)

Length

: 14 ½" (327mm)

Width

: 5.250″
Accessories
3″ (78mm) rotating extension handle (A800)
PrimSurfer add-on kit (A866)